Davy Jones is Back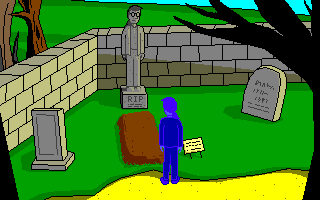 Download (527 kb)

This game was made with the express purpose of bringing Davy back from the dead (as you can tell from the title.) After having his head exploded, the spirit of Davy teleports out of Limbo, and wanders around town as a ghost. Help Davy find some way to bring himself back to life.
Comments:
A short game, but it has a fun flic animation in the end. -cornjob
Details:
Created By: Charles Kelly
Date Released: Monday 11th February 2002
Game Engine: AGS

Playable character:
New characters:
Featured characters:
Crazy Homeless Weirdo
Death
Phil Nihilist

Walkthrough:
Go East then South-east.
Enter Davy's house, to the right of the Yahtzeebrand store.
When Davy comes back out, enter Scid's bar.
Enter the back room.
Talk to Death until he gives you the gloves & scythe.
Leave the bar and enter the alley next door.
Use the scythe on the jukebox and search the box. Leave the alley and go North.
Use the skeleton key on the door and go in.
Use the safe and enter the combination: "573,101,96,43" (without the quotes.)
Pull the handle. Leave and go back into the Yahtzeebrand store.
Give the rock to the clerk. Enter the back room. Go back to Davy's gravesite.
Use the shovel on Davy's grave.
Screenshots: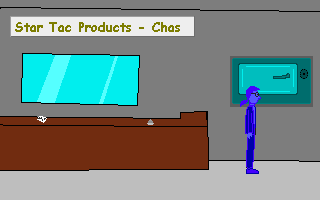 Awards: