Kittens and Cacti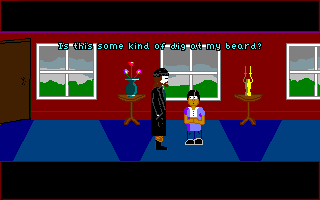 Download (1100 kb)

Melt and Drake return in this follow-up to the great "Cabbages and Kings." This time, the duo teams up with Doc and Mika to foil Baron Wolfgang's evil plot in an adventure complete with flashbacks, time travel, and yes, talking animals.
Comments:
I really liked this game, the middle installment of what appears to be a trilogy. It's got a lot of new, creative stuff, and a variety of fun cutscenes and flashbacks. -cornjob
Details:
Created By: Creed Malay Denzil Quixode
Date Released: Wednesday 14th August 2002
Game Engine: AGS

Playable character:
New characters:
Featured characters:
Baron Wolfgang
Doc
Mary and Gerard
Max Griff
Mika Huy
Percival Wolfgang

Walkthrough:
None available yet.
Screenshots:
Awards: