Lunchtime Of The Damned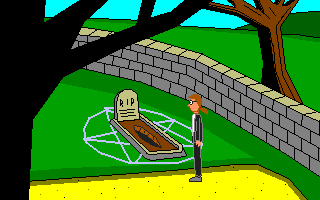 Download (406 kb)

Reality's first episode, featuring zombies, sorcerors, a dead Bill Cosby and oh so much more! Made by Yahtzee, author of the Rob Blanc series.
Comments:
The first game to be released, it sets the tone and style for many of the later RON games.
Details:
Created By: Ben Croshaw
Date Released: Saturday 17th February 2001
Game Engine: AGS

Playable character:
New characters:
Baron Wolfgang
Crazy Homeless Weirdo
Davy Jones
Dead Bill Cosby
Elandra Desmond
George Watstatt
Michael Gower
Phil Nihilist
Punk Allen

Featured characters:
Walkthrough:
Cycle right-click mouse cursors and perform the following actions to complete the game. This walkthrough was created to maximize brevity and enjoyment - there are more interactions possible that add to the richness of the game.
East, then West
Search corpse (take wallet)
Enter Yahtzeebrand General Store
Buy pooper-scooper and bottled water
Exit store, then West
Use wallet on Jukebox
Use Bum's arm
Read spell book in inventory
Use Invisibility Spell on yourself
Use door
Use bottled water on bottle of vodka
Exit bar
Use pooper-scooper on corpse
East
Read spell book in inventory
Use bloody pooper-scooper on grave
Use vodka on grave
Use fire spell on grave
Screenshots:
Awards: