The Chef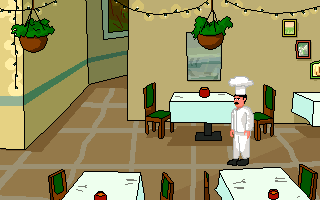 Download (6000 kb)

Grundislav, creator of the Hooky McPegleg games, returns with his third(!) RON game. This time, we meet a new character: Chef Lucca. When the mayor is forced to shut down Lucca's Italian restaurant due to a complaint from D.O.R.K.S. (Department of Restaurant Kitchen Sanitation), the chef suspects someone is out to get him. Help Lucca and his naked brother Guido uncover an evil conspiracy.
Comments:
Another cool game with new characters, some cool animations, and a lot of "Godfather" music and styling. -Cornjob
Warning! This game WILL make you hungry! Keep a bowl of pasta on standby! -Dave
The game music file can be downloaded HERE. File size 1400 kb.
Details:
Created By: Francisco Gonzalez
Date Released: Thursday 11th April 2002
Game Engine: AGS

Playable character:
New characters:
Featured characters:
Baron Wolfgang
Crazy Homeless Weirdo
Death
George Watstatt
Jhon Steel
Michael Gower
Mika Huy

Walkthrough:
None available yet.
Screenshots:
Awards: