Cabbages and Kings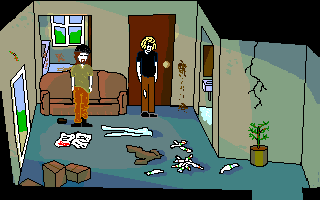 Download (902 kb)

Step into the shoes of Melt! Help him and his flatmate Drake pay their evil landlord, the Baron. This is the first part of a trilogy of games.
Comments:
This game is notable for introducing drugs to the town. Hysterical dialog and a bunch of cool new characters make this a must play. One of my favorites. -Dave
Details:
Created By: Denzil Quixode Creed Malay
Date Released: Monday 1st July 2002
Game Engine: AGS

Playable character:
New characters:
Bryan
Doc
Mary and Gerard
Melt & Drake

Featured characters:
Baron Wolfgang
Crazy Homeless Weirdo
George Watstatt
Mika Huy
Phil Nihilist

Walkthrough:
None available.
Screenshots:
Awards: