Strange Days
In this new game, you play Bradford Scotts, a famous musician who comes to RON seeking refuge from his legions of fans. But do you really think he'll find peace and quiet in this town?
Created by: Kunafits
Released: Sunday 6th January 2002
Download (27 kb)


View game details
The Sorceror's Appraisal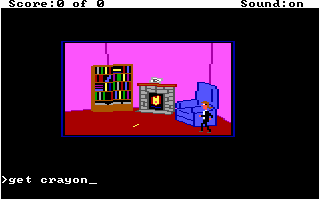 And now, a game made before RON even existed! Yahtzee created most of this game about a year ago, but it remained unfinished until just now. This adventure follows Davy Jones as he travels through an interdimensional portal to an alien (yet somehow familiar) world. And yes, it's made in AGI, old school Sierra-style.
Created by: Ben Croshaw
Released: Thursday 24th January 2002
Download (211 kb)


View game details
The Universal Equalizer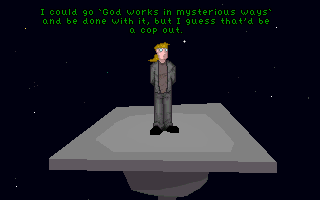 In a follow up to Captain Mostly's death of Davy game, the venerable Helm gives us his take on the matter. It's not really a game, but rather a short, one-room animation. Helm's character animation is as cool as ever, so check this out to see the artwork and Helm's interpretation of the fate of Davy.
Created by: Telemachus Stavropoulos
Released: Thursday 24th January 2002
Download (331 kb)


View game details
Davy Jones is Back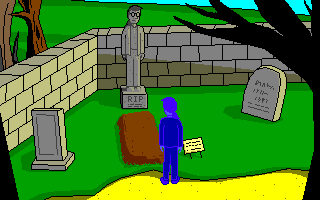 This game was made with the express purpose of bringing Davy back from the dead (as you can tell from the title.) After having his head exploded, the spirit of Davy teleports out of Limbo, and wanders around town as a ghost. Help Davy find some way to bring himself back to life.
Created by: Charles Kelly
Released: Monday 11th February 2002
Download (527 kb)


View game details
Ron Quiz Part 1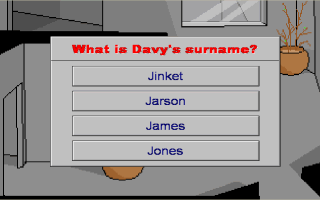 This is an extremely brief trivia quiz made by Nico, who was also behind the extremely brief game Scoop Da Poop. So far there are only three very easy questions. And if you answer a question wrong, the program calls you an imbecile! Hopefully Nico will be able to add more questions and turn this into a real quiz.
Created by: Nico
Released: Saturday 2nd March 2002
Download (197 kb)


View game details
The Chef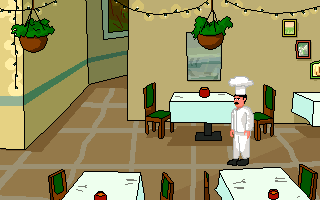 Grundislav, creator of the Hooky McPegleg games, returns with his third(!) RON game. This time, we meet a new character: Chef Lucca. When the mayor is forced to shut down Lucca's Italian restaurant due to a complaint from D.O.R.K.S. (Department of Restaurant Kitchen Sanitation), the chef suspects someone is out to get him. Help Lucca and his naked brother Guido uncover an evil conspiracy.
Created by: Francisco Gonzalez
Released: Thursday 11th April 2002
Download (6000 kb)


View game details
Cabbages and Kings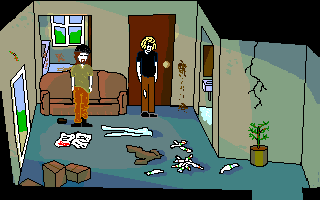 Step into the shoes of Melt! Help him and his flatmate Drake pay their evil landlord, the Baron. This is the first part of a trilogy of games.
Created by: Denzil QuixodeCreed Malay
Released: Monday 1st July 2002
Download (902 kb)


View game details
Kittens and Cacti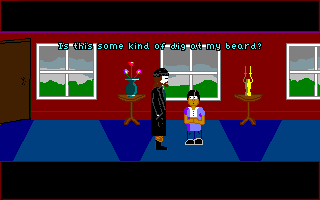 Melt and Drake return in this follow-up to the great "Cabbages and Kings." This time, the duo teams up with Doc and Mika to foil Baron Wolfgang's evil plot in an adventure complete with flashbacks, time travel, and yes, talking animals.
Created by: Creed MalayDenzil Quixode
Released: Wednesday 14th August 2002
Download (1100 kb)


View game details
Invasion of the Space Aliens...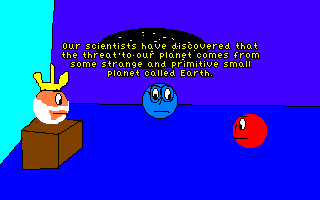 This game is set between the first two RON games. Here we follow Alec Spherguson, secret agent from planet Spheroidia on a mission to save his home world. And of course, somebody in Reality-on-the-Norm holds the key to the survival of the ball-shaped aliens.
Created by: Aleksandar Janjic
Released: Sunday 25th August 2002
Download (556 kb)


View game details
Commander Keen Enters RON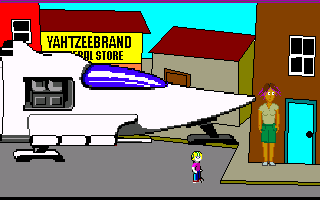 Another old videogame character comes to RON, in this short game. This time it's Keen, and he's looking for his lost pogo stick. Das Tobias brings us yet another game in his unique style, with completely nonsensical puzzles.
Created by: Tobias Schmitt
Released: Friday 20th September 2002
Download (575 kb)


View game details