Purity of the Surf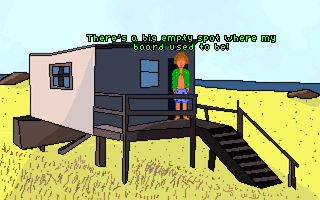 Josh Beachcomber has come to the town to participate in Reality's annual surfing contest. However, the contest costs money to enter and Josh is broke and deathly allergic to getting a job. Not to mention his surfboard has mysteriously disappeared. What's a beach bum to do? This game sports a number of nifty animations as well as your favorite RON characters in skimpy swimsuits! Woo-hoo!
Created by: Dave Gilbert
Released: Friday 17th January 2003
Download (2800 kb)


View game details
Defender of RON
Here's a nice game with lots of interactions and optional bonus puzzles. Phil Nihilist the Yahtzeebrand store clerk has finally gained the incredible superpowers he always dreamed of. He becomes a superhero to help the people of Reality. However, Phil recieves a threatening phone call from DC Comics....
Created by: Valentijn Gilissen
Released: Wednesday 18th December 2002
Download (819 kb)


View game details
The Underworld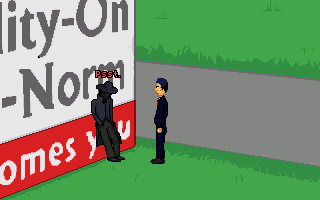 You're Frank Malone, the best and only mobster in RON. Mayor Gower hires you to be his bodyguard, a job simple because you're the only one in town that would attack him in the first place. But soon, your evil twin brother Fred comes into the picture. Fred's a little peeved that you sent him to prison, and he wants a little revenge.
Created by: Kunafits
Released: Monday 9th December 2002
Download (690 kb)


View game details
The First Stitch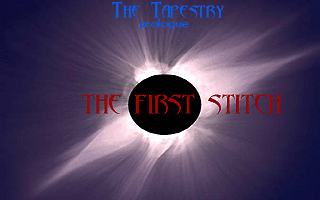 Yet another otherworldly being travels to RON. This time, it's Greyson, a cloaked figure (who doesn't walk) charged with repairing the fabric of space and time. And, as you would expect, Reality is home to a big rip in the universe. This is a short game, but a pretty nice one, so check it out.
Created by: Dylan Downing
Released: Wednesday 4th December 2002
Download (784 kb)


View game details
Commander Keen Enters RON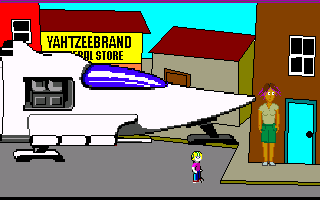 Another old videogame character comes to RON, in this short game. This time it's Keen, and he's looking for his lost pogo stick. Das Tobias brings us yet another game in his unique style, with completely nonsensical puzzles.
Created by: Tobias Schmitt
Released: Friday 20th September 2002
Download (575 kb)


View game details
Invasion of the Space Aliens...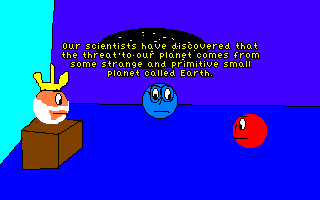 This game is set between the first two RON games. Here we follow Alec Spherguson, secret agent from planet Spheroidia on a mission to save his home world. And of course, somebody in Reality-on-the-Norm holds the key to the survival of the ball-shaped aliens.
Created by: Aleksandar Janjic
Released: Sunday 25th August 2002
Download (556 kb)


View game details
Kittens and Cacti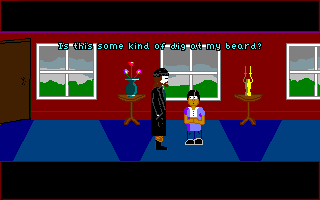 Melt and Drake return in this follow-up to the great "Cabbages and Kings." This time, the duo teams up with Doc and Mika to foil Baron Wolfgang's evil plot in an adventure complete with flashbacks, time travel, and yes, talking animals.
Created by: Creed MalayDenzil Quixode
Released: Wednesday 14th August 2002
Download (1100 kb)


View game details
Cabbages and Kings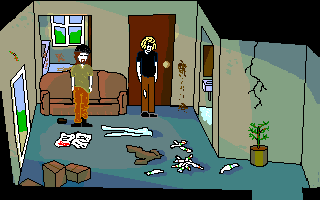 Step into the shoes of Melt! Help him and his flatmate Drake pay their evil landlord, the Baron. This is the first part of a trilogy of games.
Created by: Denzil QuixodeCreed Malay
Released: Monday 1st July 2002
Download (902 kb)


View game details
The Chef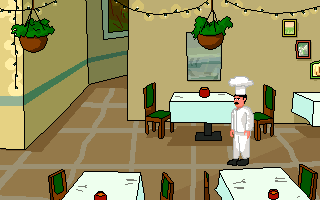 Grundislav, creator of the Hooky McPegleg games, returns with his third(!) RON game. This time, we meet a new character: Chef Lucca. When the mayor is forced to shut down Lucca's Italian restaurant due to a complaint from D.O.R.K.S. (Department of Restaurant Kitchen Sanitation), the chef suspects someone is out to get him. Help Lucca and his naked brother Guido uncover an evil conspiracy.
Created by: Francisco Gonzalez
Released: Thursday 11th April 2002
Download (6000 kb)


View game details
Ron Quiz Part 1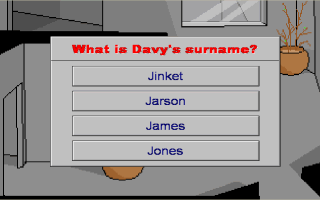 This is an extremely brief trivia quiz made by Nico, who was also behind the extremely brief game Scoop Da Poop. So far there are only three very easy questions. And if you answer a question wrong, the program calls you an imbecile! Hopefully Nico will be able to add more questions and turn this into a real quiz.
Created by: Nico
Released: Saturday 2nd March 2002
Download (197 kb)


View game details